What comes to mind when you hear, "Alaska"? Whatever it is-wilderness, bears, mountains-it's probably not surf. The thing is, whether you're looking for monster swells in winter, or want to surf warmer water than NorCal, Oregon, and Washington in the summer, Yakutat has it covered. The small, quaint Alaskan fishing town is home to less than a thousand people, but is arguably home to the highest concentration of quality surf breaks in a state that also holds the most coastline in all of the U.S.
When Surfer magazine offered a cover photo from Yakutat back in 1993 the surfing community took notice. With Jack Endicott establishing Icy Waves in 1999, and CBS news covering the first surf shop in the state, "Surf City, Alaska" was born. Icy Waves is impressive. It's a fully stocked surf shop with everything a visitor needs to be outfitted for a surfing adventure in Yakutat. It's actually not as difficult as many might think to have a worthy surf trip to the great white north. There's a few ways of going about making the adventure happen. Here's a few tips:
Transportation: Since you can't drive to Yakutat, fly there with Alaska Air or check out ferry options with the Alaskan Marine Highway. Your next step- rent a car. It's really the only dependable way to get around Yakutat, scope surf, and ensure your mobility when in the area. A rental can also double as a bivy spot if you're looking to get out of the rain, hide from mosquitos or use an alternate means of shelter beyond a tent or hotel. I used Economy Auto leasing during my time in the area, but Situk is also a viable option. Plus, when you drive, you get to wave at each passerby as just about every driver in Yakutat waves.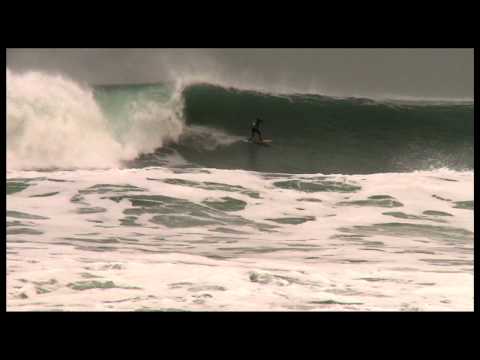 Some big wave surfing in Yakutat from Red Bull
Accommodations: There are numerous places to camp in Yakutat. Reserving a spot at Cannon Beach with the US Forest Service is highly recommended. If you're looking to camp near the breaks on the opposite side of town make sure you check in with local Indigenous people before just assuming you can camp there. Respect for tribal lands is essential in Yakutat as in all places, so it's best to check in with the Yakutat Ranger Station at (907)784-3295 before formulating any plans to camp in the area, as well as to get the most up-to-date information available.
The local True Value hardware store has all the random odds and ends you might need for camping, including mosquito repellent and bear spray (the sure fire way to really piss a bear off). If you're looking for a nice room, there aren't too many options, but try the Glacier Bear Lodge. While I camped during my stay, lots of fishermen and women stayed at the lodge, and it's a great place for food and evening drinks at the bar.
Food/Drink: Yakutat is a simple, coastal Alaskan town. Don't expect too much in terms of nightlife or endless choices for places to eat and drink. Mallot's is the place to be in the morning to grab a cup of coffee and possibly catch some other surfers fueling up for a morning session. You might even catch Jack there too if he's not at the shop. Mallot's and the AC are the best places to stock up on food/camping supplies if you're trying to cook for yourself. The Glass Door doubles as a bar and beer/liquor store. At the end of the day, the Glacier Bear Lodge is still one of the best places to grab a beer/drink as well as a home cooked meal.
Surfing: As much as Yakutat is a destination for people to fish, and there's incredible nature walks/hiking to be done out near the Hubbard Glacier, you came here to surf, right? While far from the only place to catch waves in the state, Yakutat is set up well for surfers and offers a diversity of waves. Truth be told, Jack will be the first one to tell you, "a boat will help, but it's the locals who will show you where the best waves are". During my stay in early August, I found several intrepid travelers from all over the world looking for waves, and met several super nice locals who were all happy to point me in the right direction, or to join for a surf.
The surf wasn't massive when I was in Yakutat, but there were waves everyday. Longboarders could find some fun as much as ripping shortboarders. When the wind would blow onshore at one wave, another would blow offshore and showcase sets as clean as can be. Between Cannon Beach, Ocean Cape and Point Carrew you can easily scope waves by car and surf without a boat. Just remember though, boat access will expand your reach exponentially, as will making friends with the locals.
Water temps are far from balmy, but thanks to the warm Japanese current, water temps in summer fluctuate in the 50's sometimes even breaking into the 60's. A 5/4 wetsuit will do you fine, but a 4/3 will work as well, and booties and a hood were only necessary in August for walking out over some cobblestone breaks and sheltering oneself from stormy conditions during a few sessions. Overall, you didn't really need more than just a decent wetsuit and a board to catch waves. I've had far more ice cream headaches surfing the summer months in Nor. Cal, Oregon and Washington than in Yakutat, which is a nice surprise, something even hardy surfers find hard to believe. Of course in winter, full 6/4 suits with as much rubber you can handle on the head, hands and feet are a must since water temps plummet to near freezing lows in the 30's.
I have to leave some of the break info a mystery so you can figure it out for yourself when you get up there, but getting in touch with Jack should be your first step. He's an incredible guy, super knowledgeable and super friendly. I'm actually just as fired up to get back to Yakutat for a surf trip this summer as I am to check in with Jack. In one of our several memorable talks he offered, "[I]n the moment of the wave, it's all about the stoke. You loose all your burdens, and focus on that moment because you're caught in that vibe. And in that time, it's all that matters, and it means everything." Plain and simple, the guy gets it. He's the perfect liaison for Yakutat and visiting surfers.
If you're looking to surf in Alaska then you're probably not looking for your average surf holiday. The spirit of Alaska is alive and well in this part of the state, and just like other parts of Alaska, the stark natural beauty of Yakutat's surroundings coupled with the unique character of its residents make this a surf trip like no other. Don't forget to read up on proper camping techniques (plan for rain) and how to deal with bear encounters just in case, and travel to Yakutat with the same stoke you've hopefully shared and felt surfing in other parts of the world. It'll serve you well on your trip, a mission that regardless of how much you score during your visit, will stick with you in the spirit of Aloha.
Surf Trips Vol. 1 | "Shi-Shi Beach", Olympic National Park, WA
Surf Trips Vol. 2 | Humboldt Country North, CA